We meet our maker
(aka The Trilogy comes together)
Now that we have all the component parts, it's time to visit Ottawa, to meet with John and the manufacturing jeweler who will actually make the rings. We used Frequent Flier points to get there, and cashed in some Sheraton points to score two free nights in the heart of Ottawa, the capital of Canada. (Did you know that Canada is the largest country in the world?)
At 10:15 a.m. on Saturday morning, June 23, John Anderson picked us up at our hotel --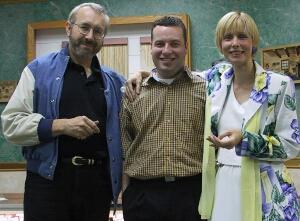 -- and we went to meet with Zahi Deek of A&Z jewelers.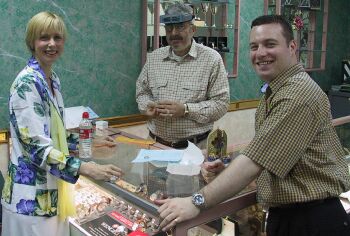 The diamond was no problem -- Zahi was familiar with the miner's cut and understood how we wanted it mounted.
Zahi let VJ look at her diamond under a gemological microscope. (Ooooh! It was so BIG!)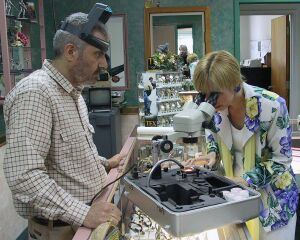 Then it was Robin's turn to be fitted.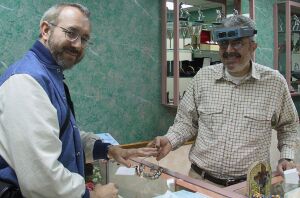 The meteorite was a difficult matter -- Zahi was skeptical about how well it would stand up to the handling necessary to cut, mount, and polish it. We telephoned Bethany Holdings and Zahi discussed the correct handling of shergottite with their metallurgist. After the conversation, he seemed satisfied to proceed, so we now parted company, leaving our beloved stones in his trustworthy hands...



On September 7, we received an email from John -- Zahi has finished making the rings. They will be ready early October -- could we come to Ottawa the weekend of October 6-7? Of course! Robin promptly began investigating airfares and accommodation.
As it happened, Robin was entitled to a "free" weekend from the Starwood hotel group in return for all the business he'd done with them, but this offer expired at the end of September. It was going to be costly to spend two nights in Ottawa! But when he started checking room availability, Robin discovered that, as a result of the 9/11 tragedy, Starwood had extended their offer another month! We were able to cash in his award to stay in the Westin Hotel in Ottawa after all!

Meanwhile, a customer in Charlotte, North Carolina, booked Robin for a training course beginning Monday, October 8. A few days later, another customer booked him for a few day's consulting in Atlanta beginning Monday, October 15. Hmm -- Charlotte and Atlanta are fairly close together -- maybe a rental car could be used to commute between them. After an elaborate juggling of flights, Robin patched together a bizarre round-trip of Los Angeles - Toronto - Ottawa - Pittsburg - Atlanta - Philadelphia - Ottawa - Toronto - Los Angeles!
So on Friday October 5, we endured the lines at LAX and, after a horde of police and a bomb-sniffing dog finished inspecting our plane, boarded our Air Canada flight. The flight was uneventful. After a relatively painless plane transfer in Toronto, we arrived in Ottawa and checked into the Westin.
| | |
| --- | --- |
| Saturday morning we found the hotel crawling with security guards and people of various nationalities crowding the elevators and lobbies -- it seems NATO was holding a conference there! We checked the news and discovered that all of the streets were blocked off and there were protest marches being organized, targeting the Westin Hotel! | |
As you can imagine, John was delayed arriving at the hotel, but we were thrilled to see him. He produced two elegant green boxes.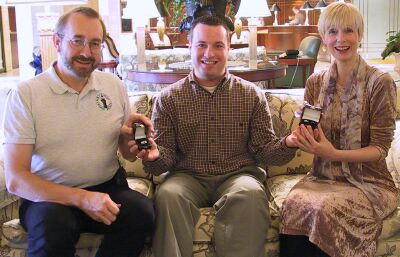 One box held an engagement ring and matching wedding band, looking just like the original leaflet, but realized in platinum rather than gold. Robin extracted the engagement ring and slipped it onto Vicky Jo's finger. It looked great!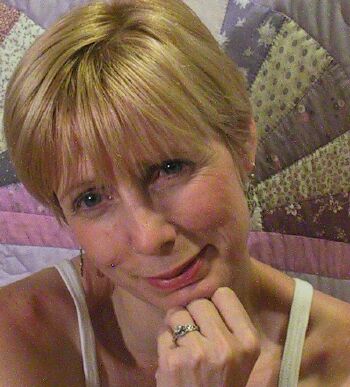 Click for close-up!
The wedding band fitted snugly against the engagement ring as expected, but we returned it to its case -- it will be put into service May 2002!
Robin's ring is a chunky band of platinum with the meteorite chip snugly embedded in a diagonal arrangement. The platinum is buffed to a semi-matte sheen, to better complement the matte surface of the meteorite. The overall effect is quite dramatic, but in a subtle way.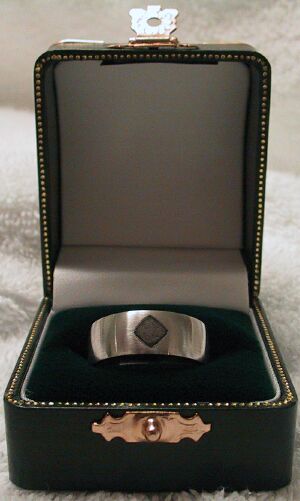 Robin sent VJ away while the gentlemen completed negotiations and financial transactions.
After sums of money were exchanged, we bade a fond farewell to John and headed off to Charlotte and Atlanta for 10 days.
When we arrived in Atlanta, we went to claim our luggage in the baggage area. As it came tumbling down the chute, we claimed one piece... two pieces... three pieces... but no fourth piece. We waited and waited. Soon we were standing all alone, abandoned in the area, while the turntable spun sadly 'round. In all the time we've been traveling, VJ's only had her luggage delayed twice. In 25 years of flying, Robin's had luggage delayed twice. It was unsettling to have a piece of luggage vanish... especially when it's luggage containing the new rings!

Robin put in a claim to the airline, and was assured the luggage would be sent on a later flight and delivered to our hotel room that evening. After a bit of confusion on the part of the delivery service, who couldn't understand why they were delivering baggage that arrived in Atlanta, Georgia to a hotel in North Carolina -- the baggage did appear late that evening, securely locked and completely intact. ~Whew!~
During this trip, Vicky Jo wore her engagement ring and got accustomed to it. Exposing it to a couple of flights, nearly every weather condition known to man, and a vast range of temperatures, she determined that it had a slightly loose fit. Since our round-trip returned us home via Ottawa with an overnight stopover there, Robin phoned A&Z Jewelers from the Atlanta airport to ask whether Zahi could rectify the fit as we blew through town. As it happened, Zahi was out that day, but his partner Robert was in, and professed he could resize the rings for us in 45 minutes. Since our flight (via Philadelphia) was due to arrive in Ottawa at 2:30pm, it seemed there was plenty of time.
Sure enough, we breezed through Canadian Customs and, after a minor altercation with a taxi driver who regarded our excessive baggage as a major imposition, we arrived at A&Z about 4pm. Robert was wonderfully friendly and told us how he had worked on making the rings. He was obviously delighted by their unusual nature. True to his word, he resized the rings in no time, and now they fit snugly on Vicky Jo's finger.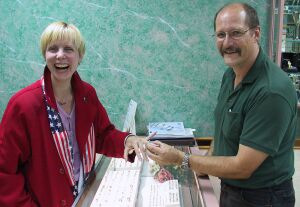 After one pleasant night in Ottawa, including a brisk walk in freshly-falling snow, we flew home triumphant -- the rings are ours at last!
We wore them on our fingers during the flight home so we wouldn't suffer any more palpitations over misplaced luggage, but as soon as we arrived home they were quickly whisked into their boxes to bide their time until next Spring. It took well over two years to land them -- we can be patient a tad longer.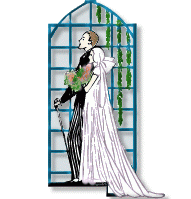 Wait!
We did it! By now we have been ecstatically married for