Ring 1.
Where doth the Orange Blossom?
(aka What will you wear for the rest of your life, dear?)
Some people start with the gemstone; some people start with the setting. We're "setting" kind of people.
Thus our first hurdle was to procure an engagement ring setting. So where's the best place to view a large assortment of settings? Los Angeles has a formidable jewelry district -- several city blocks of malls and stalls selling all manner of jewelry, primarily engagement rings. We invaded the area with great optimism -- but quickly became "ice-blind" at the bewildering array of choices. Too much to compare, contrast, remember ... and we have very poor Sensing skills! We got too dizzy to look any more and staggered home, defeated. This ring business was more treacherous than we supposed.
We agreed we both preferred something in a silver color rather than gold, and we fast realized that few contemporary ring styles appealed to us. Vicky Jo wouldn't consider a classic Tiffany solitaire --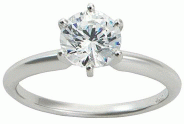 -- because her father used to fill gumball machines when she was a child and she associates this ring style with plastic capsules of cheap toys and bubblegum balls.
Both of us were attracted to old-looking, unusual antique rings that implied a history or a mystery... and Vicky Jo loved the lacy look of filigree.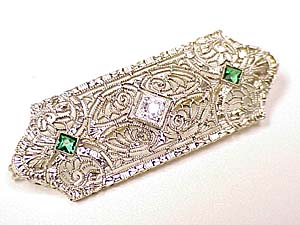 All that fancy metal lacework is called filigree.
Another thing Vicky Jo knew she liked was the wedding ring "set," which included matching engagement ring and wedding band. The symbolism of each individual item struck her as important. She especially liked ones that fit together in a puzzle-piece kind of way.

Extreme version of a puzzle-style ring
As Vicky Jo put her iNtuition to work on the problem, pondering what setting she would most like, she was struck by a long-forgotten memory...
When she was 17 years old growing up in Iowa, she had a boyfriend who liked the idea of getting hitched.

She made that dress herself!
One day when they were out together, she spied a ring in a shop window which she fell in love with on the spot! She admired the ring so much she went into the store and inquired about it. The clerk provided her with information and a brochure about the ring. She obsessed over that ring for quite some time -- even considered marrying her guy just to get it. But common sense thankfully intervened, reminding her she wanted to attend college first -- which the relationship did not survive.
As Vicky Jo mulled over this distant memory, she tried to recollect what that ring looked like... what that brochure looked like... in fact, was that brochure maybe still around somewhere...?
She rummaged through some drawers, finding old papers, old photos, old junk she's lugged around since college that evaded multiple purges... and there it was. A tattered, folded brochure, long since forgotten.
The pictures were grainy and awful, and it only showed the engagement ring without its companion wedding band... but here it was -- the ring she remembered. It looked like a wee bit of lace when wrapped around the ring finger. Vicky Jo showed the picture to Robin, and he liked it too.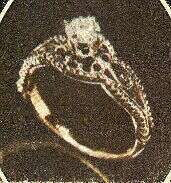 The original brochure
As we scrutinized the brochure in detail, we found the phrase "Orange Blossom," which we supposed was either the name of the manufacturer or the ring style. Armed with this clue, Vicky Jo began a quest on the internet!
She searched on the phrase "Orange Blossom" in conjunction with "ring," "engagement," etc., to no avail. Eventually, she stumbled onto the "Diamond Talk" bulletin board, which discussed diamonds and rings, and in January 2000 she posted an inquiry about the Orange Blossom brand on "Bride Talk"... And waited...
Over the next several months, there were some desultory replies: "Try this store in Philadelphia -- I think my cousin got one there...." Ha! No such luck. "Try this number in Texas -- I'm sure that's the place...." Pfffft! Never heard of it. Nothing materialized but bum steers.
We happened to visit Ports O' Call Village in San Pedro, and stumbled onto The McCloud Ringworks, a manufacturing shop we liked. We proposed to the jeweler Peter the possibility of replicating the ring from the photo we had. "Of course we can do it!" We launched into a long discussion exploring the options. Peter was a goldmine of information about metals and stones and useful ideas. "If you go with a diamond," he said, "I'd suggest a rose cut or a miner's cut." Whuh?
"That's a type of diamond cut they did around the turn of the century. It's not as sparkly as the new diamond cuts, but it would be more in keeping with the old style of this ring."
VJ wrote that down. "Rose cut. Miner's cut. Got it." Peter suggested it would best to acquire the gemstone before creating the setting in order to achieve a perfect fit, which made good sense.
We departed with much to consider. As we drove home, the idea of attempting to carbon copy the Orange Blossom ring began to feel depressing. Kinda like reinventing the wheel or something... Vicky Jo neglected to pursue it further.
Weeks later, when we visited Philadelphia, VJ combed Jeweler's Row, reputed to be one of the oldest and largest diamond districts in the States. She spotted some contenders in the shop windows --

-- but nothing she was really in love with. At Robbins Brothers, a salesman said he'd never heard of Orange Blossom. He talked to us about filigree rings, which they unfortunately didn't carry. He recommended two lines for us to explore: Van Craeynest and White House, maintaining they were the only filigree lines around that were noteworthy.
Then a breakthrough burbled up from the Diamondtalk bulletin board -- "I believe Josten's bought out the Orange Blossom company." Really?! A phone call to Josten's confirmed the rumor: "Yes, we absorbed Orange Blossom years ago."
Yayyyyyyyyy!
Followed by the blow of bad news: "But that division was liquidated -- and all their molds were destroyed."
Nooooooooooooooo!
A period of mourning was declared. Despondency set in.
We had reached an impasse.
Vicky Jo rolled up her sleeves and began seeking other options. After all, you can't be a fiancee without a proper ring, and she was determined to give 100% to the job. (As it was, she postponed publicly announcing our engagement for a year because she had no ring to show for it.)
Some people suggested we design our own ring -- but we don't know diddly about ring design. (Just what we want -- badly-designed rings on our fingers. Gah!)
VJ thumbed through catalogs and found a couple of intriguing possibilities:
| | | |
| --- | --- | --- |
| | Hmmm... | |
| | |
| --- | --- |
| | Vicky Jo decided she liked a marquise cut style of diamond. Robin thought they looked too "spikey," despite the fact that VJ's kinda "spikey" herself sometimes. |
Internet searches turned up these unusual candidates:
Take care you don't go ice blind!
Though it's a great source of inspiration, we weren't comfortable buying an engagement ring online, sight-unseen. That seemed like a supremely bad idea.

Then Vicky Jo stumbled across this intriguing ring in a small designer shop:


A Dainty Setting Vicky Jo Liked
You can't tell without seeing it from the side, but it features a precarious-looking "tension" mounting. 'Tis a pity it can't be worn with a companion wedding band due to the ring's unusual shape. But the seller was like a used car salesman: "Special deal! Today only! 25% discount if you buy right now! We'll re-size the ring any way you want!" We took a dislike to him and departed quickly.
Fueled by the Robbins Brothers info, Robin launched an internet search. The tricky part was spelling Van Craeynest, since we'd only heard the name but never seen it written before. Robin tried Cranest, Craenst, Kraenst, and Craynst. He finally ran a "wild card" search that turned up 300 names, including gems like "Crow's Nest," and then he narrowed that field to specify jewelry-related. That netted him the correct spelling, plus email access to Roger Van Craeynest.
Robin wrote Mr. Van Craeynest, who responded promptly and courteously. As a manufacturing jeweler, he could not himself sell us any rings, but he tipped us off to 2 nearby jewelers who carried his line, recommending one highly. This jeweler was named Philip Press, and his storefront was in Beverly Hills. On the Sunset Strip, in fact.
White House was another matter. Robin couldn't seem to turn up anything. There was info on President Clinton in the White House, White House decor, a line of clothing stores called "White House," and everything else you can think of. Just no manufacturer of filigree engagement rings. (We even tried searching on "Whyte House"!)
Robin called Robbins Brothers back, and they directed his call to the main office, who told us they couldn't release any information about manufacturers (in spite of their salesman having done just that!). Then there was a scramble to find the salesman's business card in order to contact him personally. It took weeks to turn our haystack, er, house upside down before that particular needle reappeared. Bill Watson (the salesman) provided sufficient information for Vicky Jo to turn up an eight-hundred number, particularly the critical detail that the company was titled Whitehouse Brothers. This in turn led her to a phone call with a gentleman who provided her with the name of a jeweler in San Francisco who carried the line, and another one in Santa Monica.
Vicky Jo contacted the Santa Monica shop, known as the 23rd Street Jewelers. Apparently they were low on their Whitehouse stock, but they made a point of ordering a catalog for her to look at -- which would take a few weeks. Since we were on the verge of a visit to San Francisco, we thought we'd try to hook up with the jeweler there.
When we returned from the San Francisco trip (without having seen the Whitehouse ring store -- in part because it rained for most of our trip and the weather was too miserable to undergo such an outing), we sought out Philip Press in Beverly Hills to view the Van Craeynest line.
What can I say? Wow. Philip Press himself came out to greet us, and he was wonderful -- another goldmine of information. He showed us his small collection of Van Craeynest rings, and they were show-stoppers. Apparently they are manufactured differently than your usual run of ring. They are die struck with a press that can only survive a small number of stampings. Then the rings are *hand* filed. This is recognized as the finest production technique for detailed gold and platinum jewelry, and I tell you, the workmanship is remarkable. Their line is limited in scope, but these are the Mercedes of filigree rings.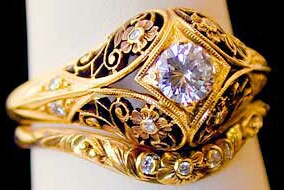 Can you believe that workmanship?
Philip showed us a stunning ring and offered us a jeweler's loupe to examine it. It was amazing. This ring featured an antique miner's cut diamond, and the asking price was a modest $40,000.
After we fled outside and hyperventilated for a while, we decided to go view the Whitehouse Brothers rings in Santa Monica. After all, we were on a roll!
On the drive there, we considered how most filigree rings display their elaborate detail by utilizing a high "crown" -- a feature Vicky Jo disliked (she had visions of accidentally landing uppercuts to Robin's jaw on a regular basis with that kind of extension). Also, that design forces one to appreciate the ring by viewing it from the top down, rather than straight on.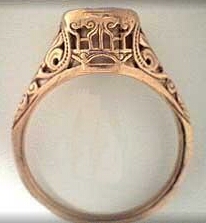 Filigree ring with high "crown"
The Orange Blossom ring, in contrast, showed its filigree straight on as you eyed the gemstone simultaneously.
When we arrived at 23rd Street Jewelers, we were greeted warmly by the entire staff. The store is a charming nook, and everyone is wonderfully friendly. They quickly produced the catalog as promised, and we found a comfy chair to flip through it together.
Sad to say, we were not impressed by the Whitehouse Brothers line. Certainly they were poor cousins to the Van Craeynest line.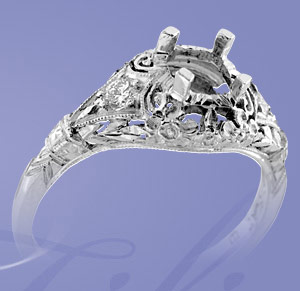 Compare for yourself!
What Vicky Jo DID like were the charming little ring boxes in the store's display counter! They resembled miniature "suitcases" with a tiny latch.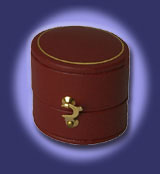 Isn't it cute?
When we asked if we could buy one, the owner said she bought them specially in London, and wouldn't part with it without selling the jewelry inside too.

As we trudged outside the store, we glumly realized that our search was far from over.
Nearly four months later, yet another email materialized from that Diamondtalk bulletin board: "Any luck finding your Orange Blossom ring?"
Sigh. Vicky Jo responded to the clueless author with the sobering information about the Josten's takeover and subsequent destruction of the molds. This writer was persistent though. He replied, "Not the Orange Blossom I deal with. I'm a jeweler in Canada, and I work with an Orange Blossom all the time. ...Say, do you have a picture of your ring?"
Vicky Jo scrambled for the scanner. "Uh, I'm uploading it now!"
After emailing the photo off, silence ensued. Vicky Jo shrugged and supposed it was another bum steer, much as the other leads had been. Heck, even if there was an Orange Blossom in Canada, what were the chances they'd still stock a 25-year-old ring design? She expected she'd never hear from the guy again.
Several days later we were in Philadelphia once more. Coming home late from dinner one evening, Vicky Jo checked her email in the hotel room. John Anderson of Ottawa (for that is his name), had sent another email. Luckily, Vicky Jo was sitting down when she read it. This one said, "Vicky Jo, I just got off the phone with Orange Blossom... and... they ... have ... your... RING!"
Vicky Jo felt like the wind had been knocked out of her. Something she'd given up on had risen like a phoenix from the ashes of her past. The hair on the back of her neck stood up.
At this point, Robin gracefully stepped in and insisted assertively that Vicky Jo hand the project over to him because, after all, it's the man's responsibility to supply the ring.
Robin opened negotiations with John, bearing in mind the favorable exchange rate with the Canadian dollar -- so how much would it cost? ...can we get the companion wedding band? can it be made in platinum? ...what size diamond would be appropriate? And, in amongst all of this, the nagging doubt -- would Vicky Jo still like the ring after so many years? Robin asked John if he could supply a sample molded in wax that we could "test drive."
When we picked up our mail several days later, a package was discovered -- containing an Orange Blossom ring. But not made of the cheesy wax we'd asked for -- it was made of 14 karat gold! A 30 point cubic zirconia was also enclosed, accompanied by a cheery note from John: "Try this out and let me know -- just send it back when you're finished." There was no invoice, no deposit requested -- it was simply sent on faith -- what a magnanimous gesture!

14K Orange Blossom Sample
Vicky Jo auditioned the ring for many weeks and solicited opinions from friends and strangers alike. She tried desperately to imagine it in platinum. Finally, she pushed Robin to ask John whether he could send us any sales literature on the ring -- any brochures, maybe a photograph...? Anything!? Vicky Jo just wasn't comfortable relying only on her imagination when making such an important purchase.
As it turns out, there were no pictures or anything available. In fact, this ring had been out of production for years. The gold ring they had sent was cast specially at John Anderson's behest. (I wonder how much dust they blew off the mold.
)
I did learn something about Orange Blossom rings in the meantime. Art Anderson, a gracious and helpful jewelry expert on the Diamondtalk bulletin board, told me that Orange Blossom rings were made by the Traub Manufacturing Company based in Detroit, Michigan from around 1930 till the early 1970's when the firm was sold to Josten's (the class ring makers). The original Orange Blossom rings were very well made with intricate filigree work, milgrained edges, and richly detailed, hand-finished floral designs. Art, who knows his stuff, maintains that these rings were (and still are!) gorgeous.
So after three months of agonizing, an actor friend of VJ's asked what she'd decided. When Vicky Jo confessed she still hadn't made up her mind, the friend demanded, "How would you feel? I mean, how would you feel if somebody made you audition for three months?" Well, that made VJ feel guilty. So the guilt, coupled with an eerie feeling that the internet had spit up a piece of her past like some bit of synchronistic jetsam, begged the obvious decision. Face it -- it must be a sign. Besides, even after 25 years, it was still the prettiest ring she'd seen anyway -- like a wee bit of lace wrapped around the ring finger.
Vicky Jo gave the go-ahead.