On the bride's right:
Alongside the bride is Robin's sister, Sally Schulte, of Adelaide, Australia. Behind her and to the right is her son Alan Schulte (17!).
To Alan's right is Robin's younger brother, Malcolm Wiley, who joined us from Saudi Arabia, where he works as an emergency services consultant.
On the far end is Vicky Jo's father, Robert Varner, of Ida Grove, Iowa. In front of him is his wife and Vicky Jo's mother, Vera Varner.
To Vera's right is Heather McPeters (12), oldest child of Keith and Nancy (on the bride's left).
The speaker telephone represents Shirley Kavanaugh, Robin's mum, who listened in on the ceremony from her home in Adelaide, Australia.
Our celebrant was Mrs. Jacky Jarvis, ably assisted by Peter Smith.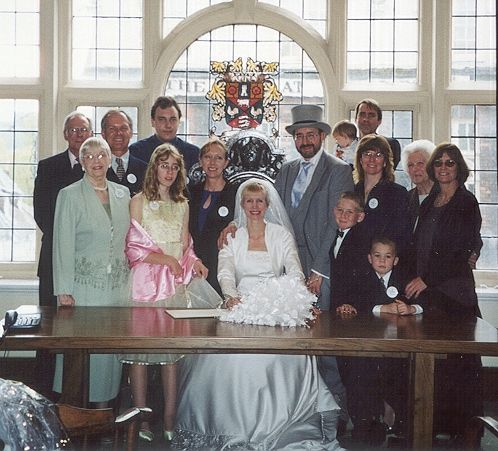 On the bride's left:
In the far back is brother-in-law Keith McPeters holding his daughter Emily. The McPeters live in Canyon Country, California.
The one in the top hat is the Groom, Robin Wiley, and he's originally from Australia.
Beside him is Vicky Jo's sister, Nancy McPeters (Keith's wife) with her two sons in front of her.
Michael is the older boy and Ryan is the younger.
Peeking through in the back is Robin's Auntie Barbara Stone (Robin's father's sister) of Christchurch, England.
On the very end is Judy Hedwig of New Zealand, Robin's brother's girlfriend.
Not pictured is our videographer, Peter Allen.
We honor the memory of Robin's father, Ronald Wiley, deceased.